What to do with all that leftover turkey? Here is a simple yet tasty turkey pot pie recipe that will help you with your leftover turkey dilemma.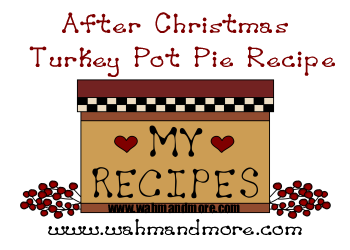 After Christmas Turkey Pot Pie Recipe
Ingredients
1 cup sliced carrots
1 cup finely chopped onions
1/2 cup chopped celery
1/2 teaspoon dried thyme
1/8 teaspoon pepper
3 tablespoons butter or margarine
2 cups cooked turkey, cubed
1 tablespoon all-purpose flour
1 can (10-3/4 ounces) condensed golden mushroom soup, undiluted
1 cup frozen cut green beans, cooked and drained
Pastry for double-crust pie (9 inches)
1 tablespoon milk
Instructions
In a large pan, saute the carrots, onion, celery, thyme and pepper in butter until the vegetables are crisp-tender.
Place the turkey and flower in a large resealable plastic bag shake to coat the turkey evenly.
Add the turkey, soup and green beans to the sauteed vegetable mixture. Stir well to ensure the mixture is combined.
Line a 9-in. pie plate with the bottom crust. Add the turkey mixture and set it aside.
Roll out the remaining pastry to fit top of pie; seal and flute edges of the pie crusts.
Cut several small slits in the pastry for steam to escape.
Brush the top crust and edges with milk.
Cover the edges loosely with foil.
Bake the potpie at 350°F for 55-65 minutes or until it is golden brown.
This recipe is best served warm.
http://www.wahmandmore.com/iafter-christmas-turkey-pot-pie-recipe/
Copyright WAHMandMore.com